Amazon has completely transformed online retail marketing for Amazon sellers. Many of them have yet to explore the e-commerce site, which already stands as one of the top choices for buyers and traders regarding online shopping. As a result, Amazon has emphasized its entire discipline and coordinated its efforts to accomplish such a feat in a short period of time with features such as its warehouse inventory management system.
Amazon warehouse management system helps you in maintaining a full stock. If the trader does not comply with this requirement, Amazon will blacklist that trader, which can be a nightmare because everyone wants to participate in the global shopping revolution. Currently, Amazon holds the number one place in the market for online e-commerce.
Amazon Warehouse Management System
To ease the burden on traders, Amazon offers FBA as a way to simplify things. After learning about FBA, however, trading with Amazon would be a wonderful experience. Through all its outlets, including the newly launched Amazon Australia, Amazon offers Fulfillment By Amazon an excellent service.
If you are a foreign trader on Amazon, managing your inventory, packaging, shipping, and delivery may be challenging. Amazon does this through its dedicated warehouses that are dedicated to foreign traders.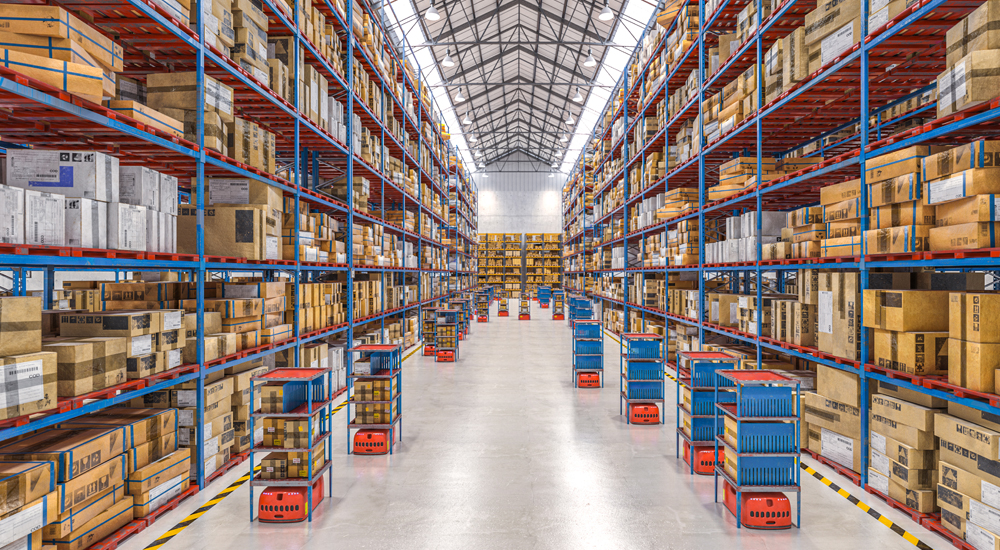 How do Amazon Warehouse Management Systems Actually Help me?
Amazon warehouse management system increases sales and ensures smooth relations between you and Amazon. Quick delivery and fully stocked shelves mean positive feedback and easy trading. Don't let out-of-stock signs and last-minute rushes ruin your business, and a warehouse management system can help you avoid it. The right professional behavior can help you get a customer's feedback, even if it's hard to get.
Each positive review counts in the new Amazon market. With warehouse management like Amazon, there is also a guarantee of stock availability.
How to Get Started on Amazon Inventory?
To use Amazon warehouses, you must create a Vendor Central or Seller Central account before you can access FBA. If you go with Amazon vendor central, you can opt for FBA only if your brand is established. It would be advisable to choose FBA as well after you have installed the seller central platform if you intend to avail yourself of the new Amazon services. Here are some primary starting up steps:
FBA should be added to your account. This may sound obvious in warehouse management like Amazon. But it is your mandatory step.
You need to make your product listings. Using your Amazon inventory management software will do this for you if you don't want to do this manually. You can add your products individually or in bulk to the Amazon catalog.
Make sure your products are ready to go. As well as manufacturing a product, you also need to prepare it for shipping and delivery. In order for the product to reach the customer intact and in perfect shape, it must be packaged thoroughly. Shipping and packaging materials may also be purchased from Amazon's prep and shipping supplies. Items will be delivered to your delivery address. Carton and bubble wrap are basic materials that can be ordered.
Send them to Amazon. Provide the shipment to Amazon's fulfillment centers by selecting the right courier and transportation company. Your supplies can be tracked, and you can make sure they reach your warehouse on time using a tracking tool. Your worries are over once the supplies are in Amazon's warehouse.
You can order, package, and ship them away. Amazon Prime members can take advantage of fast and free shipping on most orders, and most orders on Amazon are free to ship. Upon a customer's order, the product is picked from the warehouse, carefully packed, and then delivered to them. By applying Amazon Inventory Management's best practices, the product is picked up, sorted, and delivered quickly.
Back office support for customer service. The job isn't done just yet. A customer's relationship with Amazon extends even after the sale is complete and the payment has been transferred.
Additionally, customers can also track their orders using the code to receive regular updates. This enables the customer to receive their order at home and experience the joy of seeing their face when it arrives.
FBA is also responsible for providing back-office services to customers. Amazon products are supported by these services. Customers may contact the Amazon customer service team about refunds, returns, tracking, and other product-related concerns. It is available around the clock all year round and is a global franchise, and it operates 24 hours a day all week long.
Best Amazon Warehouse Inventory Management Techniques
The following tips will allow you to benefit from Amazon FBA hassle-free by managing your Amazon Inventory. Let's get started with the advice for the Amazon warehouse management system
Use Amazon automated warehouse management software for tracking purposes
The inventory and manufacturing of your company grow as you grow with Amazon. The task of managing a large stock can be long and tedious. Physical documents and Excel sheets are obsolete. You can manage your inventory more efficiently with advanced inventory management software designed for Amazon.
Amazon inventory management software lets you store only what you need; nothing more, nothing less. Additionally, it sends you alerts about packaging, manufacturing, and pricing changes. Throughout the process, the software acts as a guide and simplifies trading. Utilizing inventory management software can result in drastic growth for retailers.
Sales and profit-making data are also stored by the inventory tracking & control software. Because the software tracks both the pricing and sales, it can also provide daily, monthly, and quarterly reports upon request. With this data, you can create a strategy that suits your business needs.
​​​​​​​Seasonal sales fluctuations are to be expected
Christmas and other festive seasons are times when traders work harder and make more sales. In order to avoid the seasonal supply-demand gap becoming too large, you need to keep up with the pace. When you are shopping for your loved ones during Christmas, no one wants to see an out-of-stock sign. Be sure your inventory is well stocked with an Amazon warehouse management system. Furthermore, don't overstock the products since you might have to pay additional charges for storage and packaging.
Also, not all products are eligible for seasonal sales. It is important not to store inventory based on what products sell the most and what products sell the least. The decision should be based on which products make more sales. Let your supplier know about the delivery delay and update them as soon as possible. Keep in mind that it could be due to weather or stock issues when you inventory your inventory.
​​​​​​​Get an idea of how much inventory you have on Amazon​​​​​​​
As you can see, Amazon sells its inventory very quickly, and this is the exact rate of sales you get through the Amazon inventory. Knowing this will help you stock the right amount of inventory. It helps maintain a proper balance by preventing overstocking and understocking.
Typically, inventories are held for three months. Due to the fact that you are dealing on a global level, you should have at least three months' worth of stock available at once. Transport is affected greatly by weather conditions, so you don't want those to get in your way; that's why having a comfortable inventory rate is imperative.
Software that tracks Amazon inventory can calculate your daily sales trends and determine your exact inventory rate.
​​​​​​​Take your time when you need to
The best sales strategy entails gaining a maximum of customers and preventing any losses. Your sales can shoot up by using exceptional marketing and repricing techniques, and they reach higher levels than you had expected.
Your stock might be finished sooner than expected, but it will almost certainly lead to lower sales in the future. Consequently, your inventory will be exhausted. A failure to supply and demand cycle can lead to negative reviews due to delivery delays or 'out of stock' situations if you exhaust all your inventory.
How does Amazon facilitate its sellers through its distribution network?
Using Amazon FBA services, how can business owners ensure their stock is well taken care of? As you know, Amazon is currently the largest retailer in the world, and many vendors blindly entrust their stocks and products to Amazon. They have built quite a reputation in this regard that you don't have to do a background check on them or inquire about where your products go unless it doesn't reach your customer destination.
We will explain some of the reasons why Amazon's inventory management is so effective.
Almost all of Amazon's inventory is in its own warehouses
Most retailers do not have their own warehouses, whether they are physical or online. Despite having their own backrooms, most of their goods are stored in leased or rented warehouses. The goods are transported to customers or to retail stores by third-party transport companies.
Amazon isn't concerned about this. In addition to hosting the majority of its own products, Amazon sells items from other businesses through its platform. Thus, the company manages an incredibly large amount of space. Amazon had a warehouse space of 288 million square feet as of the end of 2018. The majority of that space is located in North America. And with the best Amazon warehouse management system, you can keep track of everything.
Of course, customer satisfaction and scalability are key to Amazon's success. Buying online provides instant gratification, which satisfies customers.
Amazon understood early on that one of the greatest challenges to e-commerce is consumers' desire to be able to purchase a product instantly, as they can at a brick-and-mortar store.
What is Amazon doing to meet consumer demands for speedy delivery?
Delivery times were continuously reduced. Amazon offers two-day delivery to the majority of its customers, while some even offer same-day delivery to certain regions. Some areas even offer same-day delivery, which puts physical retailers on their heels.
Amazon has been able to ship items quickly, despite other e-commerce retailers struggling. How is this possible? Amazon has always focused on providing the best possible customer experience from a strategic standpoint. Due to the fact that Amazon's competition didn't force them to speed up their delivery times, they went ahead and did it. Amazon became the standard against which other companies measure themselves.
Though from a logistics perspective, the answer might be more interesting to you since it's about transportation and warehouse management. Labor-intensive work typically characterizes order picking. In order to achieve quick delivery, it is also vital that warehouse staff locate the right items within warehouses for shipment to customers. By offering these logistics services, Amazon has positioned itself for success.
A vital component of Amazon's system is its facilities
Despite its greatness, Amazon does not operate in a monolithic manner when it comes to warehouse management. In addition to its extensive land holdings, Amazon also owns a lot of warehouse space. To provide structure to the Amazon system, it created a thoughtful warehouse ecosystem.
In fact, this ecosystem can be better understood as a distribution network.
There are five types of facilities in the Amazon distribution network:

1. Centers for cross-docking. The fulfillment centers maintain the stock of foreign vendors' packages as long as more is needed.
Fulfillment centers. A warehouse professional is most likely to be familiar with this environment. The warehouse houses Amazon's goods, and workers there pick and pack products for their customers. Over 175 fulfillment centers are located around the world.
Sortation centers. In 2014, sortation centers were introduced as a way to improve the delivery of last-mile items. No products are held at these locations. Prepared customer packages are moved through these centers by conveyor belts. The packages are sorted by zip code by Amazon associates and robots before they are shipped to a carrier.
Delivery stations. As part of its distribution system, Amazon uses delivery stations to handle "last-mile delivery.". In many cases, the last mile is handled by USPS, FedEx, or UPS, but delivery stations enable Amazon to handle high volumes of orders in high-traffic areas.
Amazon Prime Now hubs. Prime Now hubs are used by Amazon to process time-sensitive items, such as groceries. Typically, these hubs handle grocery deliveries that occur within two hours.
Management of Amazon Inventory by Amazon Fulfillment Centers
There is a space for everything and everything has a place in a warehouse. As part of standard inventory management wisdom, you should section off your warehouse and put your merchandise away according to section.
In 99% of cases, this is the best solution. It would be nearly impossible to find an item a customer ordered if you simply put SKUs on the first shelf you found. That is why Amazon is part of the 1%. The safest assumption is that Amazon doesn't use spreadsheets or off-the-shelf inventory management systems to run its trillion-dollar business. Warehouse inventory management software for Amazon is highly sophisticated that keeps its processes running smoothly.
Unlike traditional warehouses, Amazon fulfillment centers do not appear to be sectioned off in any discernible way. The store doesn't have a section for consumer electronics or a section for garden maintenance equipment. It is not uncommon for associates to walk over to a certain section within a warehouse map if a shipment of batteries is received. Instead, associates place goods wherever there is space at a fulfillment center when they arrive.
So, opting for an Amazon warehouse management system is a favorable choice.
How Does Amazon's FBA System Work?
In addition to managing goods for Amazon's Fulfillment by Amazon customers (FBA), there's another dimension to the system.
With one of the most sophisticated fulfillment systems in the world, other businesses would make sense to pay Amazon to use their service. Due to the popularity of the FBA service, Amazon picks, packs, and ships a business's products on its behalf.
A customer's FBA products are received and managed by Amazon in the following way:
Upon receipt of the packages (properly sealed and labeled)
When an Amazon associate scans a shipping label, he or she matches its contents with a shipment ID in the system.
An Amazon associate opens the shipping box to remove the items
Every item in the box has a scannable barcode, which an Amazon associate verifies
Inspecting each item, an Amazon associate determines whether it needs to be packaged extra to prevent damage during storage or shipment out
The receiving station receives the products
In the receiving station, an associate tests the item on all six sides to ensure it is not damaged
Verification of title is performed at the receiving station by an associate
Once these steps are completed, the item is officially received and routed for stowing.
"Any business owner who uses Amazon Inventory System can learn from its opportunities and lessons."
You can take lessons from Amazon and its logistics system, whether you want to learn from it or use it to distribute your goods. Amazon has reinvented how it picks, packs, and ships products despite traditional management wisdom. It has also invited other entrepreneurs to incorporate its proven methods into their own companies.
Conclusion
Amazon built its online presence based purely on providing customers with fast shipping and customer satisfaction. Such a goal would have been impossible without accurate inventory management and an Amazon warehouse management system. As an Amazon partner, you should also know how Amazon's inventory process works and use the best practices in order to provide its services.
This article provides you with all the useful information about how Amazon warehouses manage distribution networks. And what are the best practices you can apply to Amazon warehouses to effectively manage your inventories.