It can be challenging to plan and manage large quantities of inventory when you are dealing with large quantities. There are other uncontrollable factors that can cause inventory loss or surplus, like demand fluctuations, raw material shortages, and supply chain delays.
Keep an eye on your inventory at all times to prevent common inventory issues. Know how many units you currently have of each product at any given time. Fortunately, there are a variety of methods available for optimizing inventory levels and reducing risk. In this article, you will learn what inventory optimization is and what some retail inventory optimization solutions and practices are for E-commerce sellers.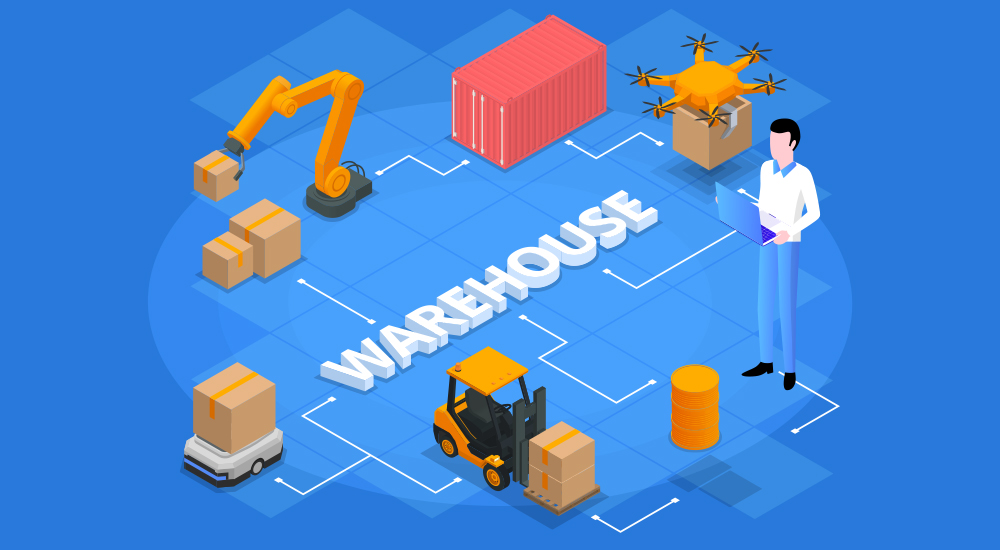 What are the most important elements of inventory optimization?
In order to have the appropriate amount of inventory ready for fulfillment, six factors must be considered, warehouse capacity, current inventory status, lead times and supplier schedules, and seasonal trends.
Below is a breakdown of what inventory optimization involves.
Forecasting the demand for goods
In order to accurately forecast demand for your products, historical data must be analyzed. The goal of demand forecasting is to predict the total sales and revenues for a specific period of time in order to make better-informed supply decisions.
However, inventory forecasting significantly reduces the risk of stockouts, improves customer satisfaction, and optimizes inventory levels.
The replenishment of inventories
In inventory replenishment, products are moved from the manufacturer's warehouse to pick shelves or taken from storage. Stock replenishment is critical as it assists in ensuring that there is sufficient inventory available to be picked and packed as soon as an order is received. In order to avoid backorders and delayed deliveries, restocking inventory at the right time is crucial.
To optimize your purchases, you should track the following factors:
Stock availability and service levels are greatly affected by supplier lead times. Furthermore, you should be aware of the opening hours and production cycles for your business, in addition to lead times. China, for example, shuts down totally for the Chinese New Year, and many west coast distributors are surprised. Other challenges include lead times of a few months on some products.
Transporting goods​​​​​​​
The quantity of an item that you order cannot be determined solely by the number of items you currently have in inventory. The information you need to know about what your suppliers are delivering to your warehouses in transit also needs to be updated. In spite of this being obvious, most ERPs and other systems do not provide easy access to such information.
Levels of inventory
The expense of stocking a lot of inventory can be quite high. Conversely, a lack of inventory takes away the chances of making sales and aggravates customers. By maintaining the correct amount of stock of each item, organizations can eliminate the risk of common inventory issues, such as high storage costs and out-of-stock items.
In order to be efficient and profitable, inventory levels must be healthy. Among its numerous benefits are improved cash flow, better warehousing capacity, and increased brand loyalty and customer confidence.
Storage of inventory
Any company that sells physical goods must optimize its inventory storage in order to achieve maximum efficiency. Utilizing a cost-effective inventory storage system can enable your company to manage inventory in a way that meets customers' expectations while allowing for expansion.
You should keep in mind that storage needs can vary from business to business. Depending upon the volume of sales, the characteristics of the products, and the locations to which the items are shipped. An important component of inventory optimization is finding ways to be strategic about storage.
Why are small business inventory optimization solutions are important?
As multichannel retailing becomes more popular, as well as the uncertainty caused by disasters, shortages of raw materials, and manufacturing shutdowns, optimizing your supply chain can be challenging.
Fortunately, by using the right technology, tools, and resources, you can keep your logistics costs low while meeting demand and planning for the unexpected. There are a number of reasons why inventory optimization is a vital part of the future growth of supply chains.

Reducing operating costs​​​​​​​
Managing inventory well can have a significant impact on the costs associated with storage, warehousing, and general inventory management. Inventory optimization can assist with identifying which items are slow to move or fast to sell if your business has low inventory flow and high carrying costs. It is also important to determine which warehouse locations are the most appropriate to store specific items based on demand to prevent their accumulating on shelves for an extended period of time.

Enhance customer satisfaction
Keeping customers satisfied is, in fact, the deepest desire of direct-to-consumer (DTC) brands. Optimizing your inventory allows you to ensure that orders will be filled within a short period of time. In order to be assured that you're not going to disappoint any customers, it might be tempting to overstock your inventory. You don't have to worry, though, because if you are smart about maximizing inventory, you can decide how much you want to keep of each item and where to store them. Taking these steps will allow you to effectively meet demand, minimize inventory problems, and keep costs as low as possible.

Gain the ability to deliver products faster​​​​​​​
It can help to track results for your SKUs across the entire distribution network by optimizing inventory. By strategically allocating inventory to storage sites that are in high demand, you will be able to ensure that a majority of your orders can be delivered quickly and at a reduced cost to your customers.
In order to keep track of your inventory levels, especially if you maintain inventory at multiple locations, it is crucial to consider technology and automation. It is possible to significantly improve your shipping strategy by implementing an inventory allocation strategy that uses technology and provides crucial insights.

Maintain balanced inventory levels​​​​​​​
In order to accurately track inventory profitability and ensure customer satisfaction, you need to know how many SKUs are in stock at any given time in your warehouse or distribution center. With inventory optimization, you are attempting to maintain a balance between inventory levels, so you do not over-By optimize inventory levels; an organization can enhance cash flow, optimize warehouse capacity, and ensure that customer demands are consistently met.

Avoid overstocking​​​​​​​
As a result of lacking resources to make better inventory decisions, inventory is often overstocked for safety's sake. The problem with overstocking, however, is that it can mean high carrying costs and dead stock, meaning old stuff that isn't selling because the expiration date has passed or the demand has gone down.
Methods of optimizing inventory
In order to operate a successful supply chain for eCommerce, inventory optimization is a crucial component. Businesses of all sizes can implement several techniques and best practices in order to optimize their supply chains.
Predict demand beforehand​​​​​​​
You can make better supply decisions if you have the right tools and technology in place. Generally speaking, these decisions are made to estimate a period of time when new sales and revenues will be generated.
Having access to historical order data is one of the most crucial requirements for forecasting demand, as it offers insight into sales trends. In a world where data-driven decisions are key to a business's success, you can use this data to make better supply chain decisions, save money, and deliver a better customer experience. It is also possible to make informed decisions on when to conduct a flash sale, if you need more staff, or if you need to rent more storage space by using inventory forecasting.
Conduct an inventory audit.
You can enhance your inventory tracking process by performing regular audits of your inventory and by following proper warehouse receipt procedures. Warehouse staffing, inventory shrinkage, and depreciation costs are some many costs that must be closely monitored and calculated.
It can be difficult to conduct audits as they are time-consuming. The inventory monitoring process can be automated and digitized using solutions for online brands. The capabilities of your online store include the ability to integrate inventory management software or utilize the fulfillment services of a third party.
Use inventory management software.
You can implement inventory management software to maintain a central database of SKUs, orders, fulfillment centers, and customers. You can choose from a number of inventory apps and solutions based on your budget and the size of your business. These solutions allow you to track your inventory in real-time.
In addition to storing inventory and fulfilling orders, inventory optimization solutions tracking software offers tools for optimizing and tracking inventory. This enables merchants to monitor inventory across distribution centers, predict demand, and automatically reorder products based on their calculations. This allows merchants to prepare tax reports for the year and to better plan for tax season when it arrives.
Create a formula for calculating reorder points
Nevertheless, you will also need to determine the optimal time to place reorders when determining how much inventory to hold. It is imperative that you ensure that excess capital is not held in inventory and account for possible lead times when determining your reorder point. In general, the lead time refers to the amount of time it takes manufacturers to deliver their products to your warehouse. The products are then received and stowed within the warehouse.
Here is a simple formula for calculating reorder points:
Reorder Point (ROP) = Demand during lead time + safety stock
It is possible to keep track of when each product should be reordered despite the formula being simple.
Divide inventory among warehouses
It is important to keep your inventory close to where you anticipate demand, regardless of the fact that central inventory is easier to manage. It has been proven that distributing SKUs across multiple fulfillment centers allows for more efficient and less expensive shipping of orders when multiple fulfillment centers are utilized.
Monitor SKUs on a regular basis.
In addition to managing your products across your distribution network (and sales channels), you can track, update, and manage all your SKUs with the use of an inventory management solution. As a result, inventory runs out sooner, and overselling is prevented.
Managing inventory across distribution networks can be simplified by partnering with a reputable and popular third-party logistics provider. Most third-party logistics providers can connect directly with all major eCommerce platforms within minutes. Once your store is connected, and your products are synced, you can then do the following:
Check your real-time inventory levels by SKU.
Reorder points are established based on the number of units at which you wish to be notified of a need for restocking.
Create bundles for promotions based on different SKUs.
Combine products that are offered on different e-commerce platforms.
Assemble products before shipping on separate e-commerce platforms.
FAQ's
What is the best way to optimize inventory?
Achieving the perfect balance between supply and demand is the key to optimizing your inventory in order to avoid high storage costs and stock-outs in the future. To optimize your inventory, you can implement inventory technology to track inventory in real-time, calculate and automate reorder points, and forecast demand.
How do 3PLs optimize their inventory?
You have access to data and analytics when you partner with a 3PL company that is able to maximize your inventory by leveraging data and analytics. You can strategize the expansion of your distribution network while data and analytics are available. Whether you lack the necessary infrastructure to optimize inventory efficiently or you spend too much time manually tracking inventory.
Conclusion
Inventory optimization is aimed at achieving this result, which is why it is essential for your company. An e-commerce store owner who wishes to optimize inventory can access the expertise, technology, and resources they need through a 3PL that excels in the field. Inventory optimization solutions address issues such as manual inventory tracking and auto-replenishment of your inventory so that you can reorder when demand increases.